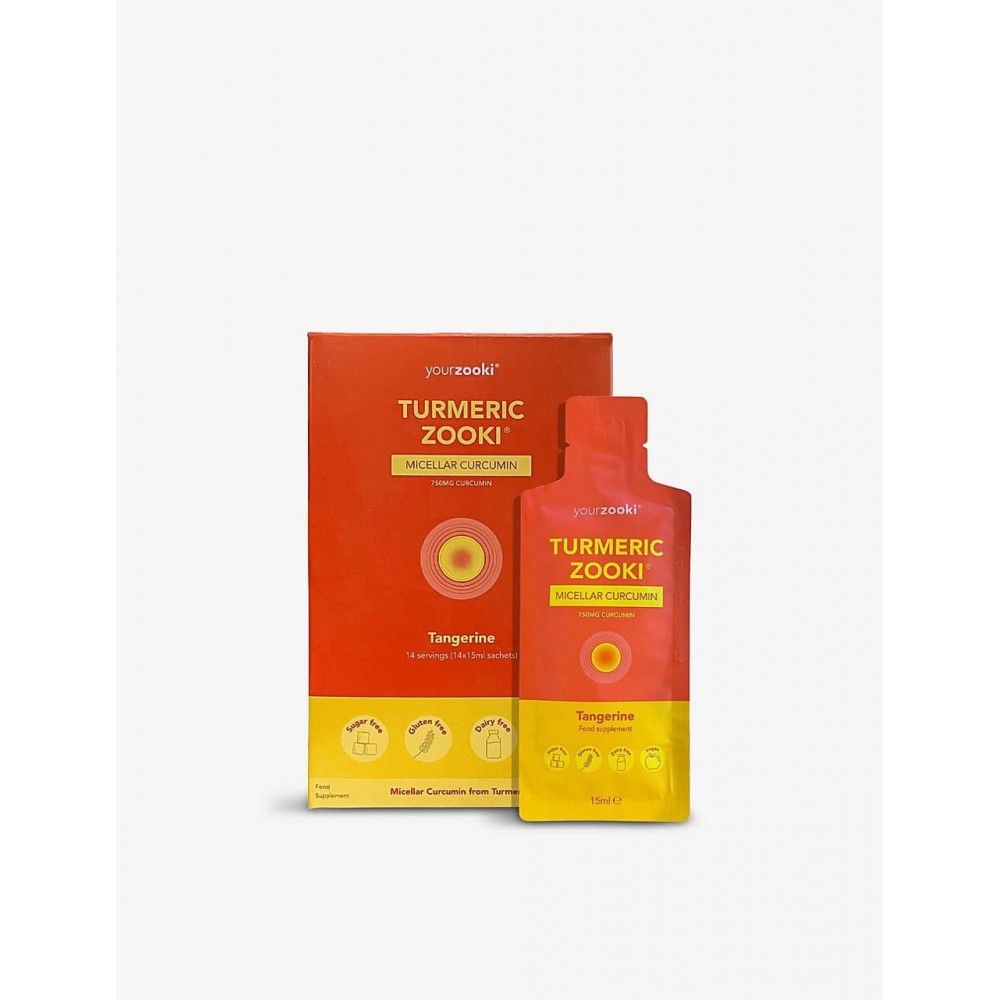 YourZooki Liposomal Turmeric Zooki™ | YourZooki | 14 (15ml) Sachets (14 Days) (5000MG)
HKD 340.00
HKD 380.00
-11%
Product Code:
Yourzooki Lipo_Turmeric
Product Description
For those returning customers, you can login to your account and insert promo code (rc15off) to enjoy 15% off discount. For assistance, please contact 92213956.


Turmeric Zooki: High absorption turmeric shots. Each sachet of Turmeric Zooki contains 750mg of active curcumin wrapped in "micelles". This water-soluble alternative to typical turmeric shots is easier for the body to absorb and we've added natural tangerine oils to provide a delicious, refreshing flavour.
High absorption Turmeric
:
In order for any nutrient to be used by the body, it first needs to be made "water-soluble" so that it can be transported in the blood (our blood is water-based!). We've emulsified Turmeric with natural lipids so that it can be easily transported to where it's needed. The result is an easy to take daily turmeric shot, that not only tastes good, but is extremely effective!
Full spectrum turmeric extract
:
Each sachet of Turmeric Zooki contains 750mg of full spectrum curcumin, the active compound found within Turmeric. These "curcuminoids" are potent antioxidants and work to fight cell-damaging free radicals within the body.
Like all the Zooki range, Turmeric Zooki is made using only 100% natural ingredients and is free from alcohol solvents, such as ethanol, that are typically found in liquid supplements.
Benefits of Zooki Turmeric:1. Anti-inflammatory: Reduce the level of pro-inflammatory cytokines in the body that contribute to chronic inflammation to improve the excessive inflammatory response in the body 2. Antioxidant: It is already a powerful antioxidant, and it can promote the synthesis of antioxidant glutathione in the body and protect cells from free radical damage 3. Effectively prevent cardiovascular disease, lower blood lipids, and delay aging 4. Promote gastrointestinal health 5. Improve arthritis
Ingredients
Purified Water, Micellar Curcumin complex (containing Curcumin from Turmeric and sunflower oil rich in Vitamin E in the form of D-Alpha Tocopherol) Xylitol (natural sweetner) Orange seed oil (natural flavour) Beta Carotene (Natural Colour) Potassium Bicorbonate, Oleic Acid, Citric Acid.

Allergen Information - Contains
For allergens, please see ingredients

Nutritional Information
Curcumin (Turmeric Extract) 750mg
Portion Size 0 g
Energy - kJ .00 per 100g
Energy - kcal .00 per 100g
Fat (g) .00 per 100g
Fat of which Saturated (g) .00 per 100g
Carbohydrates (g) .00 per 100g
Carbohydrates of which Sugars (g) .00 per 100g
Fibre (g) .00 per 100g
Protein (g) .00 per 100g
Salt (g) .00 per 100g

Storage Information: Please store in a cool, dry place.
Preparation Instructions: Ready to eat
Country of Origin: United States of America

What are Liposomes?


DISCLAIMER: This product is not intended to diagnose, treat, cure, or prevent any disease. All information provided on this site is for educational purposes and should not be construed as medical advice.