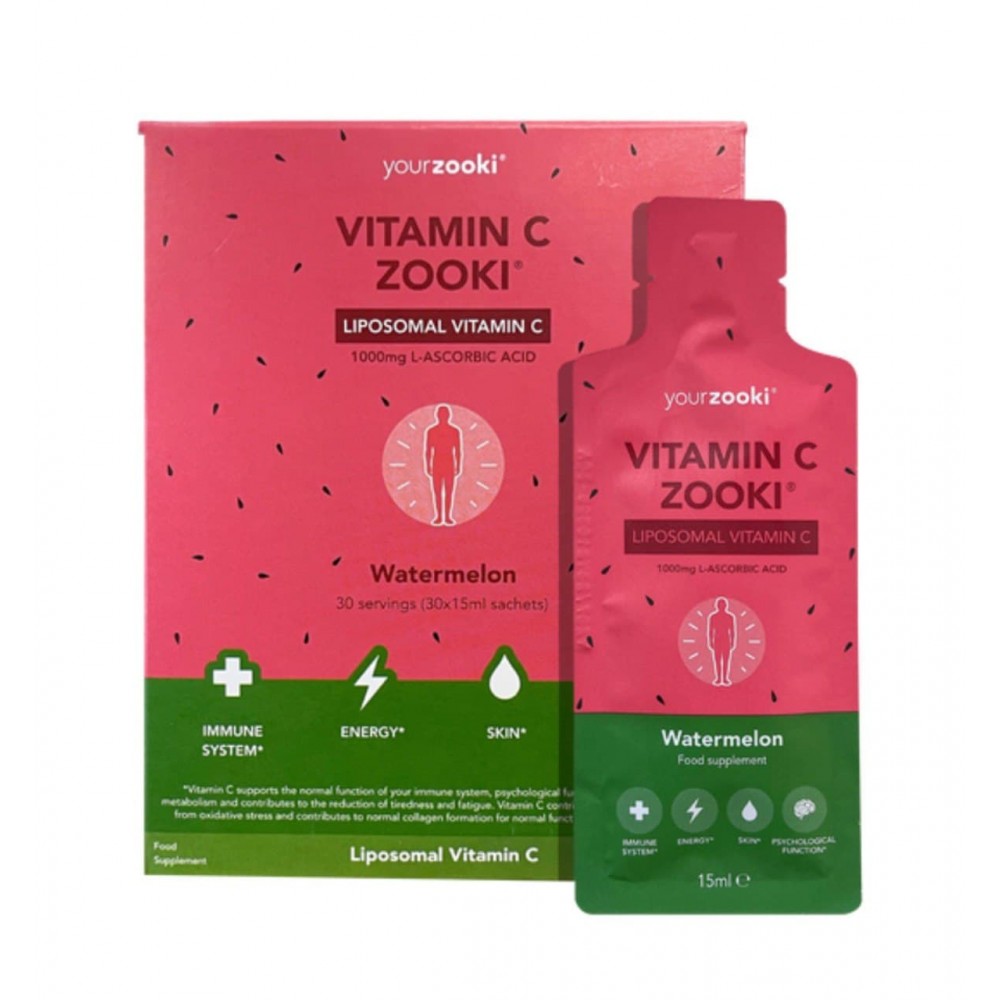 YourZooki Watermelon Flavour Liposomal Vitamin C Zooki™ | YourZooki | 30 (1000mg) Sachets (30Days)
HKD 498.00
HKD 540.00
-8%
Product Code:
Yourzooki LipoVC_WM30
Product Description
For those returning customer, you can login to your account and insert promo code (rc15off) to enjoy 15% off discount. For assistance, please contact 92213956.


Great tasting Liposomal Vitamin C with Watermelon Flavour

Vitamin C Zooki is an on-the-go Liposomal Vitamin C. Vitamin C contributes to the normal function of the immune system, the reduction of tiredness and fatigue, normal psychological function and normal collagen formation.

Liposome-encapsulated vitamin C protects the vitamin C as it passes through your digestive system, preventing it from damage and digestion for effective delivery into the bloodstream - increasing absorption up to 95% and preventing waste. Significantly, it also allows it to cross the blood barrier straight into your system.

Zooki Vitamin C is the only one on the market that does not use ethanol or any artificial preservatives (such as potassium sorbate). It is made of 100% natural ingredients, which is different from other brands of chemical vitamin C! Absolutely trustworthy for our customers!

Ingredients

Glycerin, Liposomal Vitamin C Proprietary Blend (Sunflower oil containing Phosphatidylcholine and Vitamin C as L-Ascorbic Acid)1000mg (1250% NRV**), Purified Water, Natural Flavours (Citrus oil and Vanilla), Vitamin E, (D-Alpha-Tocopherol)6.7mg (55.83% NRV**) , Natural Colours (Beta Carotene), Potassium Bicarbonate, Sucrose (<0.1g)*, Oleic Acid, Acid (Citric Acid).

Benefits
Vitamin C is critical to the human body and it's effects are wide-reaching:
1. Contributes to the normal function of the immune system, Boost the immune system
2. Helps reduce tiredness and fatigue - aids metabolism
3. Beautifying - Contributes to collagen formation for the normal function of skin, blood vessels, bones, cartilage, gums & teeth
4. Contributes to normal functioning of the nervous system
5. Helps protect your cells against oxidative stress; Anti-oxidant, anti-aging and Protect liver and kidney
6. Increases iron absorption
7. Mental benefits - Assists in a feeling of well being
8. 100% natural ingredients, Zero ethanol, Vitamin E added
9. Suitable for daily use, vegetarian food, pregnant women, high blood pressure, diabetes, chronically ill patients, and children! Children are recommended to have half pack!

What are Liposomes?
Why Zooki?
Benefits of YourZooki Liposomal Vitamin C
Vitamin C can fight cancer? Is there a scientific basis?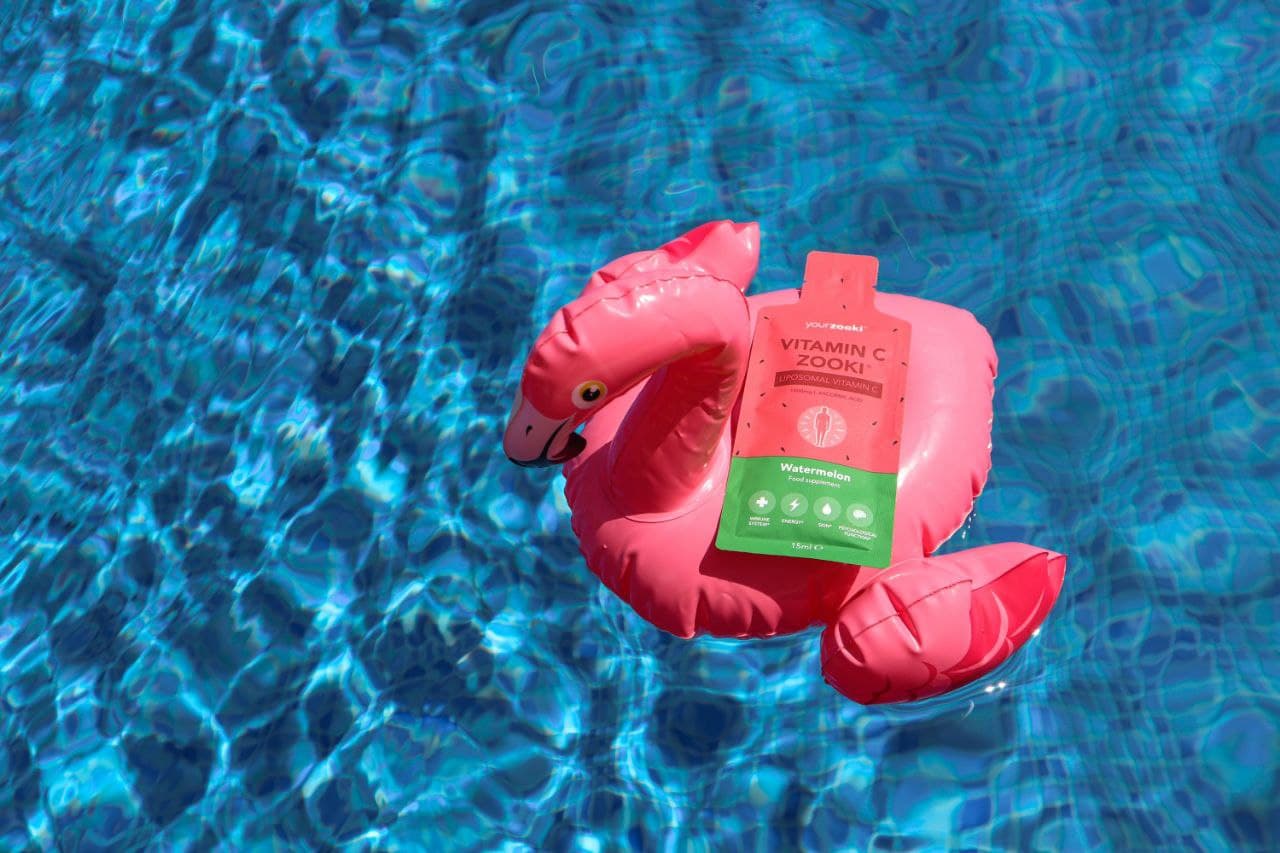 DISCLAIMER: This product is not intended to diagnose, treat, cure, or prevent any disease. All information provided on this site is for educational purposes and should not be construed as medical advice.
When is the best time to take Vitamin C Zooki? If you want to be really strict then take it in the morning on an empty stomach, but generally speaking it won't make a huge difference - most of our customers will have it with breakfast and it is sometimes nice to mix with water or some greek yoghurt. The main thing for efficacy is not leaving it out for a long time after you've broken the seal of the sachet - oxidation is the main threat to the stability of lipids!
How is Vitamin C Zooki different to other Lipid-wrapped Vitamin C products? Vitamin C Zooki is one of the only lipid wrapped formulas on the market that doesn't use ethanol or any artificial preservatives such as Potassium Sorbate. Perhaps the most notable thing of all though is the taste!!
Why do we use sachets? The biggest enemy to a lipid emulsion is oxidation, so using sachets is essential for reasons of stability more than anything else. If we were to use a bottle, the moment the seal is broken a small amount of oxygen would creep in and the stability of the lipids would be threatened. As time goes by each serving would be less and less effective. We are working closely with the leading sachet manufacturers in the UK to switch to a more environmentally friendly material, although at the moment a biodegradable sachet is not currently available.
Is Vitamin C Zooki safe for children? Vitamin C Zooki is generally safe for children, however we always recommend consulting with a medical professional before giving any dietary supplement to children under the age of 18. Young children under the age of 13 do not need a full sachet, and if they have too much it may temporarily upset their stomach. To manage how much to give to children, we recommend mixing with a small amount of water, adding it to yoghurt or giving it them off a teaspoon. We recommend ages 4 - 8 have up to one teaspoon daily and children 8 - 13 have half a sachet.
Can I take Vitamin C Zooki if I'm pregnant or breastfeeding? We always recommend pregnant or nursing mothers, children under the age of 18 and individuals with a known medical condition consult a medical professional before taking any new dietary supplement.
Is Vitamin C Zooki suitable for diabetics? Vitamin C Zooki is sugar free and perfectly fine to take if diabetic!
Why is there glycerin in Vitamin C Zooki? We use organic, plant-based glycerin derived from coconuts to keep the moisture content low, the sweet taste and the lipid vitamin c solution stable. We only use 100% natural, sustainably sourced ingredients and place particular emphasis on avoiding ingredients such as potassium sorbate, sodium benzoate and alcohol.
Is Vitamin C Zooki suitable for vegans? Yes, Vitamin C Zooki is made using 100% natural, sustainably sourced, non-GMO ingredients and is perfectly suitable for vegans.