YourZooki Liposomal Glutathione Zooki™ | GSH | (30 Servings)
HKD 598.00
HKD 680.00
-12%
Product Code:
zooki_GSH_box
Product Description
Glutathione, wrapped in Liposomes

Each serving of Glutathione Zooki contains 100mg of Liposomal Glutathione and 1mg of Riboflavin. Riboflavin contributes towards the protection of cells from oxidative stress, the maintenance of young and firming skin, vision & red blood cells and the reduction of tiredness and fatigue.
Benefits
Glutathione is critical to the human body and it's effects are wide-reaching:
1. Liposomal delivery of Glutathione
2. Contributes to the maintenance of cells
3. Supports metabolism and energy levels
4. Protects cells from oxidative stress, super antioxidant helps protecting your skin & body from damage cells caused by free radicals
5. Supports the function of the skin repairing tissue, keep you look and staying young
6. Contributes to normal vision
7. 100% natural ingredients, Zero ethanol, Vitamin B2 added
8. Boost the immune system, Collagen synthesis, Anti-oxidant and anti-aging, and to Protect liver and kidney
9. Suitable for daily use, vegetarian, pregnant women, high blood pressure, diabetes, chronically ill patients, and children!
Ingredients:

Glycerin (Coconut Derived), Medium Chain Triglycerides (Coconut Derived), Oleic Acid (From Olive Oil), Glutathione, Lactoferrin (Milk), Phosphatidylcholine, Natural Flavours (Orange Peel, Cinnamon Oil (bark), Clove Oil, Vanilla Extract), Vitamin E (as D Alpha Tocopherol), Stevia (Rebaudioside-A), Riboflavin and Meolybdenum.

Directions for use

A box of Glutathione Zooki comes with 3 oral syringes, each containing 10 servings. It is recommended to have 1 daily intake in the morning, total 30 serving. Use the measurements on the side of the syringe to squeeze a 1ml serving out onto a spoon. Have straight or add to food and drink. Once you've removed the cap off a syringe, store refrigerated and make sure to re-seal the syringe in between servings.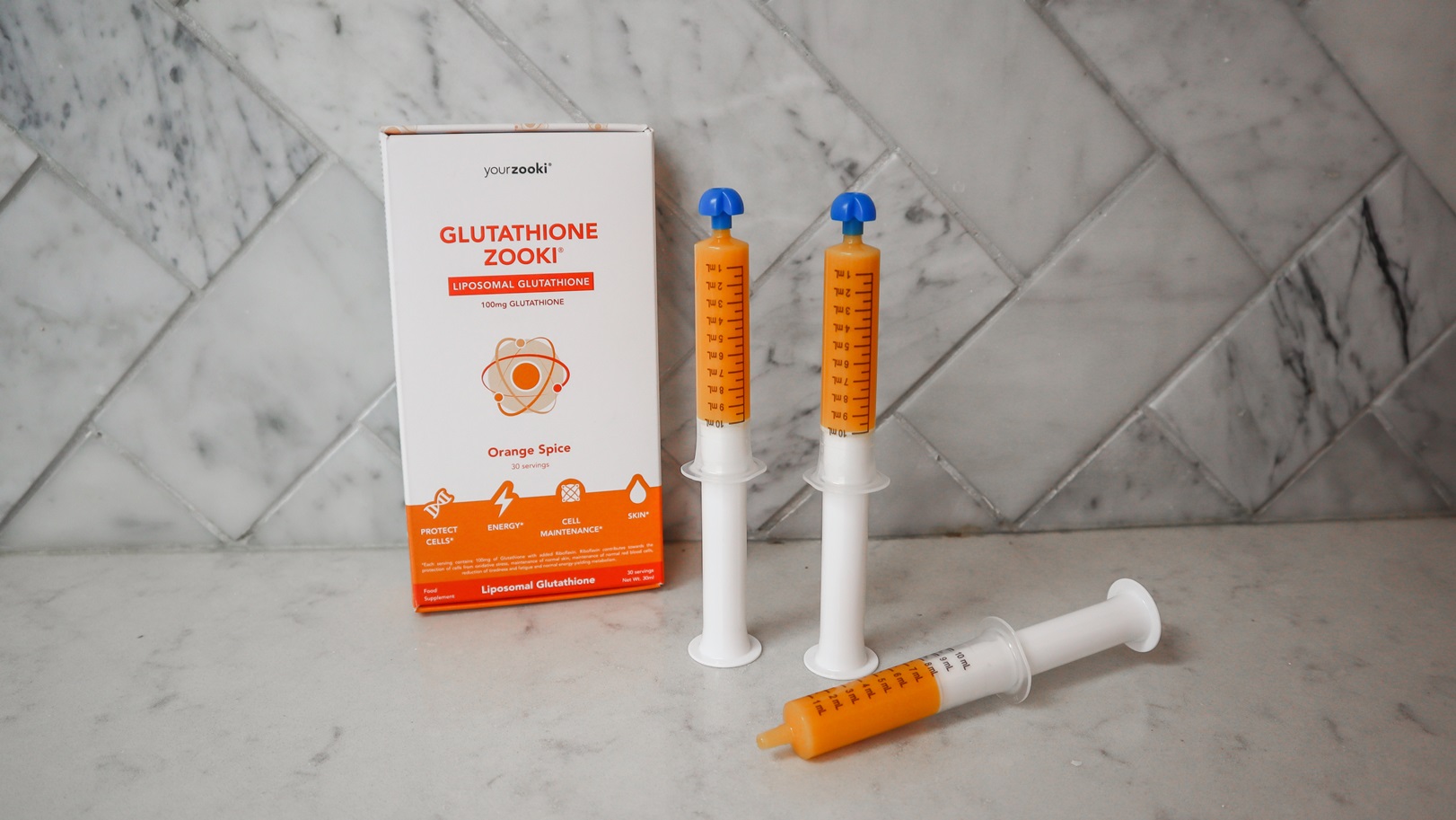 DISCLAIMER: This product is not intended to diagnose, treat, cure, or prevent any disease. All information provided on this site is for educational purposes and should not be construed as medical advice.