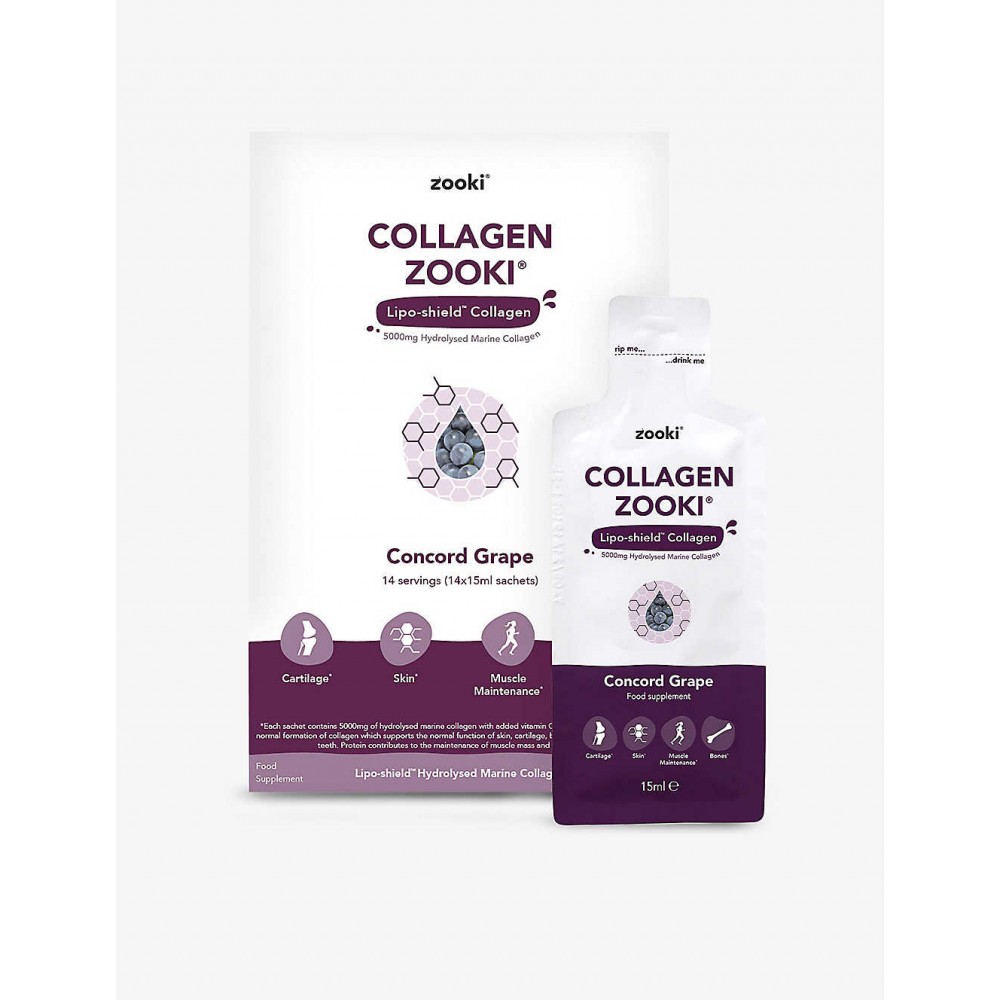 YourZooki Liposomal Collagen (Concord Grape Flavor) Zooki™ | YourZooki | 14 (15ml) Sachets (14 Days) (5000MG)(out of stock)
Product Code:
Yourzooki Lipo_Collagen_Concord Grape
Product Description
For those returning customer, you can login to your account and insert promo code (rc15off) to enjoy 15% off discount. For assistance, please contact 92213956.


YourZooki Collagen: Zooki is a highly effective hydrolyzed marine collagen in Liposomes and is the ultimate daily beauty and health supplement. Containing 5000mg of Hydrolyzed Marine Collagen and 30mg of Vitamin C, Collagen Zooki contributes to natural collagen formation for the normal function of skin, cartilage, bones, gums and teeth.

This ground-breaking collagen drink is the perfect daily supplement for anyone looking to restore and maintain a young looking, hydrated skin and healthy body.

A great tasting easy to take daily oral sachet to help support your overall health and well being as well as boosting your everyday beauty routine from within.

Rich in "Type 1" collagen, the most abundant form of collagen found within the body and hydrolyzed into individual collagen peptides, Collagen Zooki is an easily digestible product that is quick to be absorbed and efficiently transported around the body.

Directions for use: Each box of Collagen Zooki comes with 14 sachets, which can be enjoyed straight or added to water, smoothies, yogurt porridge, granola and more. Take Collagen Zooki in the morning or after your workout. - it's entirely up to your creativity or taste.
Ingredients: Liposomal Marine Collagen Proprietary Blend (Non-GMO Sunflower oil containing Phosphatidylcholine, Hydrolysed Marine Collagen (Fish) and Vitamin C as L-Ascorbic Acid), Glycerin (Coconut derived), Purified Water, Vitamin E (D-alpha tocopherol), Citrus Peel oil, Lime extract and Vanilla (Natural Flavors)
How it works: Liposomes are tiny bubbles made up from essential phospholipids, the exact same thing that surround our cells!
By wrapping collagen peptides in phospholipids, we create a barrier around the collagen that protects it from the harsh environment of the digestive system. The phospholipids that make up our Liposomes come from non-GMO sunflower oil high in phosphatidylcholine.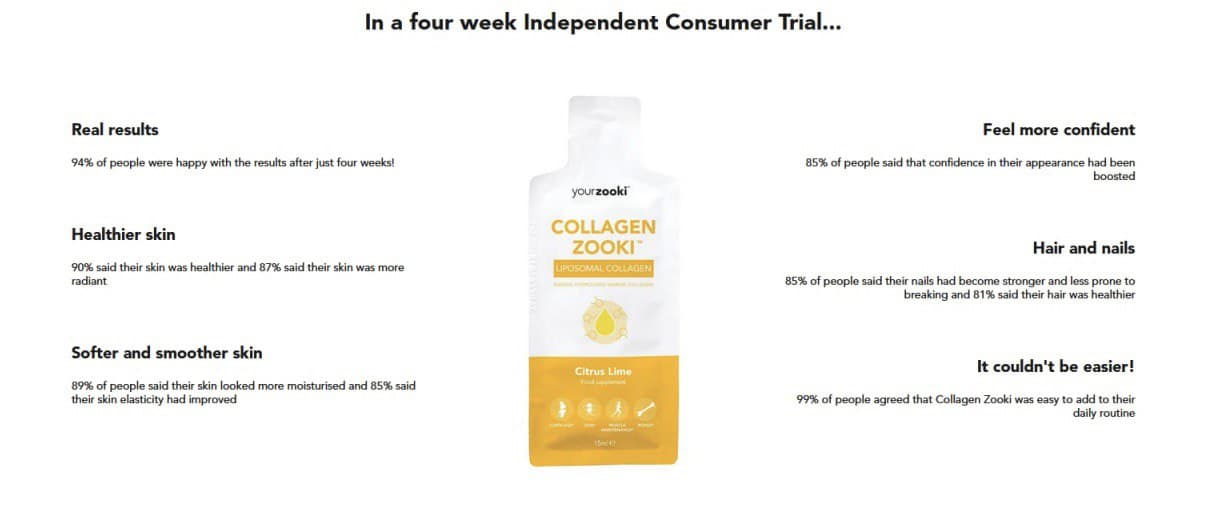 DISCLAIMER: This product is not intended to diagnose, treat, cure, or prevent any disease. All information provided on this site is for educational purposes and should not be construed as medical advice.