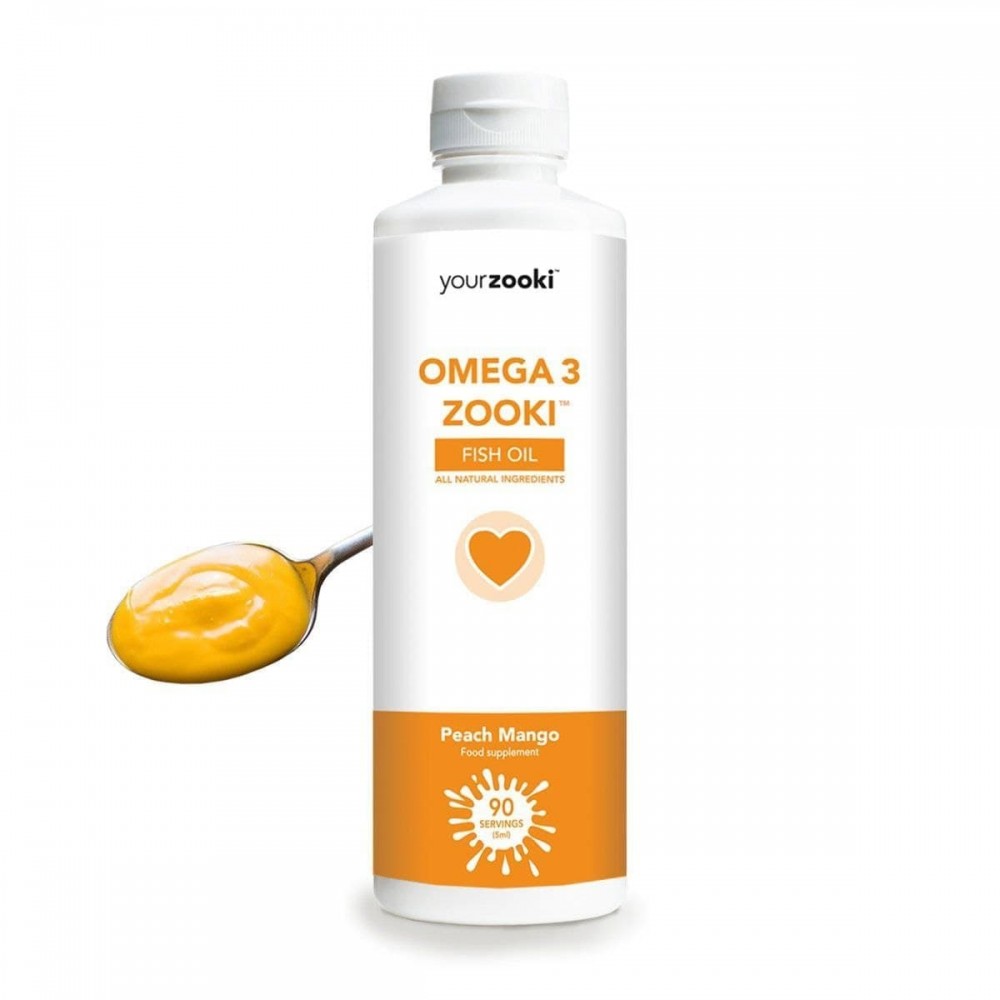 YourZooki Omega 3 450ml (Peach Mango Flavor) (Out of Stock)
Product Code:
Zooki_Omega3
Product Description
Great tasting support for the heart, brain, vision and immune system. Omega3 is a natural anti-inflammatory agent with remarkable anti-inflammatory effect, suitable for athletes and people with acne troubles! (45 servings per bottle)
Great tasting YourZooki Omega 3 with Vitamin D
Omega 3 Zooki is an easy way for the whole family to enjoy a daily dose of Omega 3 and Vitamin D. Our water soluble formula prepares the nutrients for absorption in the gastrointestinal tract.
Ingredients
Purified Water, Fish Oil (Sardine & Mackerel), Sweetener (Xylitol), Glycerin, Vitamin E, Sucrose (<0.1g), Thickener (Acacia Gum), Natural Flavours, Oleic Acid, Potassium Bicarbonate, Vitamin D3 (Cholecalciferol), Natural Colours (Turmeric and Beta Carotene), Acid (Citric Acid)
Vitamin E 2mg a-TE (16.5% RDA)
Vitamin D 5mg (100% RDA)
Fish Oil 1500mg
Of which Omega 3 EPA 262.5mg
Of which Omega 3 DHA 112.5mg
Directions for use
Each teaspoon of Omega 3 Zooki contains 375mg of Omega 3 EPA DHA and 100% of your RDA for Vitamin D. Adults can have up to two teaspoons (10ml) daily while children under the age of 13 can have up to one teaspoon (5ml) daily.
Benefits of YourZooki Omega 3 Fish Oil
Flash Sales Special: Omega 3 is priced at HKD388 per bottle, 15% off for three or more purchase (promo code: summer85), and the average is HKD 330! (For those spend less than $1000, you may put a note for special delivery of SF Express "Pay By Receiver")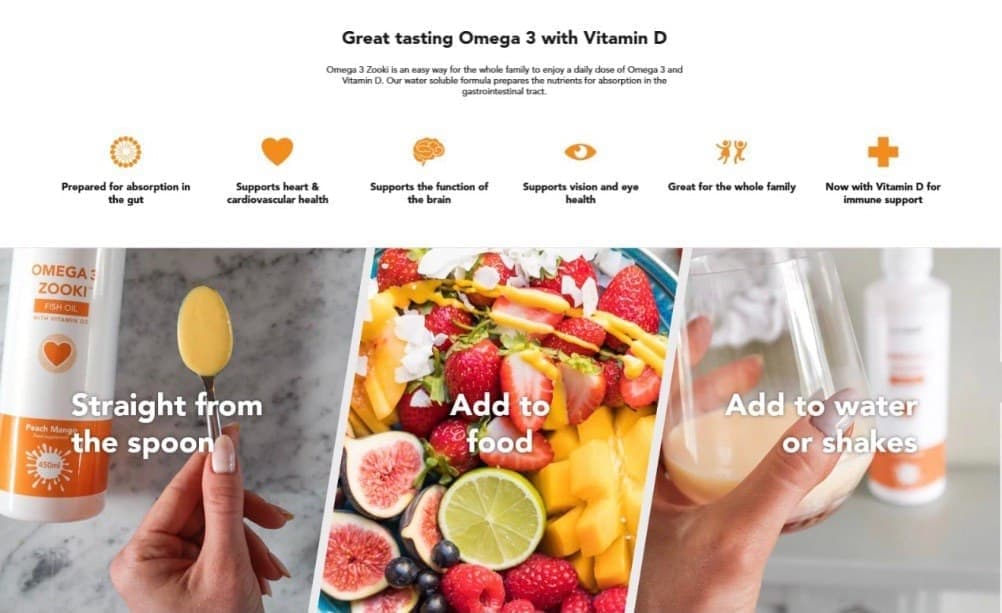 Where does your fish oil come from? All our fish oil comes from sustainably sourced mackerel and sardines from Norway.
How much fish oil is in Omega 3 Zooki? Each teaspoon of Omega 3 Zooki Peach Mango contains 1500mg of pharmaceutical grade fish oil, of which 375mg is Omega 3 EPA DHA.
Is Omega 3 Zooki suitable for Diabetics? Yes, Omega 3 Zooki is sugar free and is perfectly fine for Diabetics to take
How much Omega 3 Zooki Can I take in a day? You can take as much as you like, it won't do you any harm. However, after 3 teaspoons you won't get any further benefits from it, so we recommend taking 1-3 teaspoons a day.
Can children take Omega 3 Zooki? We recommend adults take two teaspoons daily and children under the age of 13 have up to one teaspoon daily
How much Omega 3 EPA and Omega 3 DHA is in a serving of Omega 3 Zooki? A 10ml adults serving contains 525mg of Omega 3 EPA and 225mg of Omega 3 DHA
How long will a bottle last if I take it every day? Each bottle of Omega 3 Zooki contains 450ml, so 90 teaspoons. If there's one adult using the product and they take 2 teaspoons each day, a whole bottle will last for 45 days.