BYD Care KN95 Particulate Respirator 3D Mask (50PCS/Box) (Out of Stock)
Product Code:
BYD Care KN95 DG3101
Product Description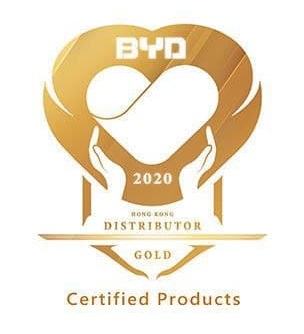 3M released a Technical Bulletin on January 2020 regarding Comparison of FFP2, KN95, and N95 and Other Filtering Face piece Respirator Classes. According to the report, it considers China KN95 is "equivalent, at same grade" to US NIOSH N95 and European FFP2 respirators comparison. Thus, it is effectively filter non-oily particles such as dust, acid mist, paint mist, microorganisms, etc. Thus, it is known that the N95 mask able to prevent coronavirus. (BYD is one of 14 US FDA authorized mask manufacturers in China) (BYD Care)

BYD Care KN95 is intended for respiratory protection against non-oil particles and reduces user exposure to certain airborne particles including those from sanding, sawing, grinding, sweeping, bagging, or from processing minerals, coal, iron ore, flour, and other substances.

- Name: BYD KN95 Particulate Respirator (The US FDA Authorized Mask Manufacturer) (Product ID: DG3101)
- Aerosol Type: Non-Oil
- Color: White
- Size: Universal
- Exhalation Valve: NO
- Strap Attachment: Stapled
- Adjustable Nose Clips: Yes
- Standards: Executive Standard KN95 (GB 2626-2006), Australia TGA ARTG 332300, (Foldable with earloop, 4-ply Single use only, Non-Sterile)
- Filtration Efficiency:Meets Requirements for ≥95% filtration efficiency against solid and liquid aerosols free of oil, Splash Resistance Pressure ≥16kPa
- Product ID: DG3101

- Origin: China
Product Specification

Note:
1. Not suitable for harmful gases and steam
2. Not suitable for hypoxic environments, underwater operations or fire fighting
- Packing: 2 pcs in a pack; 50 pcs in a box; 20 boxes in a carton (1,000 PCs/ Carton)
- Adult size: 175 mm × 95 mm
- Box size: 240 x 130 x 147mm
- Carton Dimension: 670mm x 500mm x 324mm
- Weight of One Carton: 10.6kg

(Product comes in white)
* For bulk or oversea orders, please contact our sales representative +(852)28927657, whatsapp +(852)97971138*

Due to the brand factory's instruction, some of product's certificates & test reports will be provided in latter stage of the purchasing procedures.

Emergency Use Authorization (EUA)