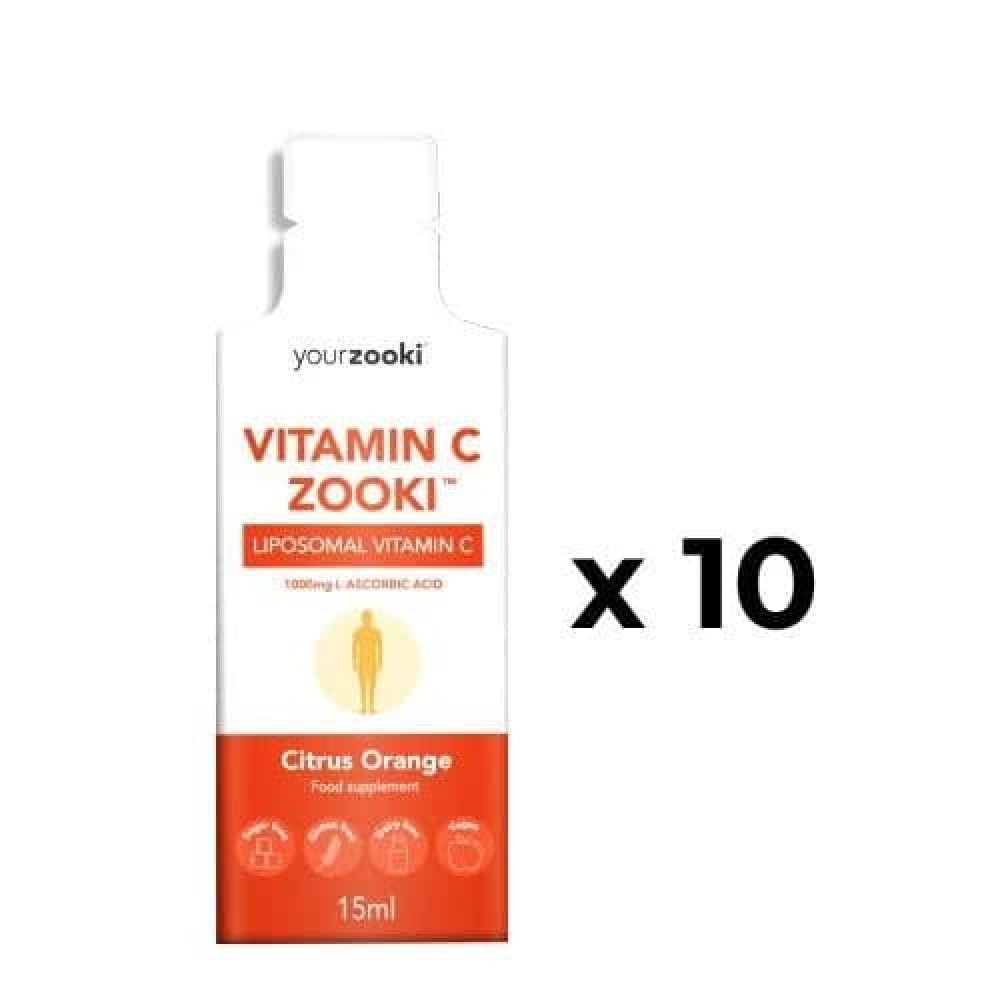 YourZooki Liposomal Vitamin C Zooki™ | YourZooki | 10 (1000mg) Sachets for 10 days
Product Code:
Yourzooki LipoVC_10
Product Description
Great tasting Liposomal Vitamin C

Vitamin C Zooki is an on-the-go Liposomal Vitamin C. Vitamin C contributes to the normal function of the immune system, the reduction of tiredness and fatigue, normal psychological function and normal collagen formation.

Liposome-encapsulated vitamin C protects the vitamin C as it passes through your digestive system, preventing it from damage and digestion for effective delivery into the bloodstream - increasing absorption up to 95% and preventing waste. Significantly, it also allows it to cross the blood barrier straight into your system.

Zooki Vitamin C is the only one on the market that does not use ethanol or any artificial preservatives (such as potassium sorbate). It is made of 100% natural ingredients, which is different from other brands of chemical vitamin C! Absolutely trustworthy for our customers!

Ingredients

Glycerin, Liposomal Vitamin C Proprietary Blend (Sunflower oil containing Phosphatidylcholine and Vitamin C as L-Ascorbic Acid)1000mg (1250% NRV**), Purified Water, Natural Flavours (Citrus oil and Vanilla), Vitamin E, (D-Alpha-Tocopherol)6.7mg (55.83% NRV**) , Natural Colours (Beta Carotene), Potassium Bicarbonate, Sucrose (<0.1g)*, Oleic Acid, Acid (Citric Acid).


Benefits
Vitamin C is critical to the human body and it's effects are wide-reaching:
1. Contributes to the normal function of the immune system, Boost the immune system
2. Helps reduce tiredness and fatigue - aids metabolism
3. Beautifying - Contributes to collagen formation for the normal function of skin, blood vessels, bones, cartilage, gums & teeth
4. Contributes to normal functioning of the nervous system
5. Helps protect your cells against oxidative stress; Anti-oxidant, anti-aging and Protect liver and kidney
6. Increases iron absorption
7. Mental benefits - Assists in a feeling of well being
8. 100% natural ingredients, Zero ethanol, Vitamin E added
9. Suitable for daily use, vegetarian food, pregnant women, high blood pressure, diabetes, chronically ill patients, and children! Children are recommended to have half pack!

What are Liposomes?


DISCLAIMER: This product is not intended to diagnose, treat, cure, or prevent any disease. All information provided on this site is for educational purposes and should not be construed as medical advice.